Regular price
$59.99 USD
Sale price
$29.99 USD
Unit price
per
Sale
Sold out
📬 Receive the download link in your email immediately after purchase or visit menofinked.com/downloads
📱 Send to your preferred reading device or app - Kindle, Nook, Apple Books, tablet, etc.
❤️ Any problems, just shoot me an email at chelle@chellebliss.com
View full details
The Men of Inked Heatwave series is filled with protective men, sassy women, and lots of heat.
Get lost in the wildly popular family saga, featuring tattooed bad boys, rowdy and lovable bikers, family dinners, and so much more.
This bundle features THIRTEEN eBooks in the USA Today bestselling spicy romantic suspense series,
Included in this bundle...
BOOK 1

Gigi and Pike spent a week together before she took off without a word. But when Gigi starts working at her family's tattoo shop, she's stunned to find Pike is her new coworker — and their chemistry is as combustible as ever!

TROPES & THEMES:

One Night Stand
Protective Alpha Hero
Surprise co-workers
Boss's daughter
Troubled Past
Found Family

BOOK 2

Pike Moore never had an easy life. Between his criminal father and heartless mother, Pike didn't think he'd ever know love until he met Gigi Gallo. But when Pike's father tracks him down and brings trouble with him, Pike will do anything to keep his woman safe.

TROPES & THEMES:

Woman in Peril
Protective Alpha Hero
Found Family
Emotional Scars
Redemption

BOOK 3

Tamara Gallo knew she was missing something in life. Looking for adventure, she takes off, searching for a hot biker who can deliver more
than a good time. But once inside the Disciples Compound, she may get more than she bargained for.

TROPES & THEMES:

Motorcycle Club
Protective Alpha Hero
Opposites Attract
Woman in Peril
Forced Proximity
"A DELICIOUS & STEAMY FAMILY SAGA!"
BOOK 4

Perpetual good girl Lily is caught off guard when her high school crush, playboy Jett, struts into her family's business. But when they become roommates, their chemistry proves just how much opposites attract…

TROPES & THEMES:

Return to Hometown
Opposites Attract
Friends to Lovers
Playboy

BOOK 5

Bossy, protective bad boy biker Mammoth Saint always thought he'd be a member of the Disciples MC…until he laid eyes on her. But when Mammoth's ready to sever ties from the club for good, choosing love over the brotherhood, someone from his past threatens his freedom along with their happily ever after.

TROPES & THEMES:

Woman in Peril
Protective Alpha Hero
Found Family

BOOK 6

Josephine Carmichael lives in the crosshairs of the paparazzi as the child of a Hollywood power-couple. But when her celebrity boyfriend has an affair while they're on vacation, she has nowhere to go. And when Nick finds Josephine sleeping in the parking lot of a local store, his protective instincts take over. What starts out as a simple favor, takes them down a road they never imagined.

TROPES & THEMES:

Opposites Attract
Protective Alpha Hero
Fish out of Water
Friends to Lovers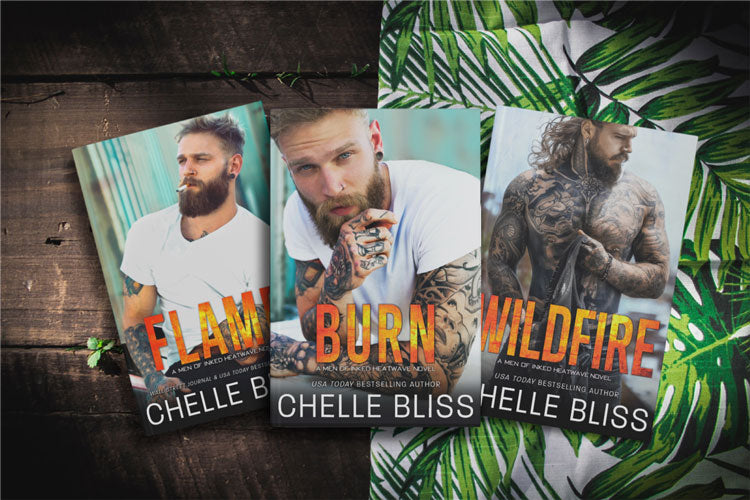 Join the Gallo siblings as their lives are turned upside down by irresistible chemistry and unexpected love.
GET THE EBOOK BUNDLE
BOOK 7

Rebel Bishop is a single mom, looking for shelter, not a handout. But when her path crosses with an old flame, they uncover an ember of passion that's been smoldering inside them both for over a decade.

TROPES & THEMES:

Single Mom
Protective Alpha Hero
Second Chance Romance
Found Family

BOOK 8

Arlo King is the perfect woman to help reform the serial womanizer, even though she has commitment issues of her own. Quickly their fake relationship goes from slow-burn to scorching hot from the very first touch.

TROPES & THEMES:

Playboy
Fake Relationship
Found Family
Protective Alpha Hero

BOOK 9

Dylan Walsh left his small town behind and vowed to never return. But when his brother needs help, Dylan steps back into the memories he tried so hard to forget. He thought there was nothing there for him anymore until a woman he knew as a little girl catches more than Dylan's eye.

TROPES & THEMES:

Return to Hometown
Grumpy Sunshine
Troubled Past
Protective Alpha Hero
BOOK 10

After spending years of his life in prison for a crime he didn't commit, Nevin Walsh doesn't know where he fits in anymore. His family has changed, and the world is a very different place. But then, his brother's best friend,
Luna Gallo, makes it her personal mission to help him settle back into
his newfound freedom.

TROPES & THEMES:

Brother's Best Friend
Troubled Past
Friends to Lovers
Grumpy Sunshine

BOOK 11

Trace Caldo's smart mouth always gets him in trouble. As the youngest of three brothers, he's used to fighting to earn respect. But when he picks a fight with the wrong person, Trace ends up blindfolded with no hope for escape. And when a beautiful woman offers him a way to stay alive, Trace can't refuse her outlandish offer.

TROPES & THEMES:

Fake Relationship
Kidnapped
Marriage of Convenience
Playboy
Mafia

BOOK 12

Stone Gallo has lived life like every day is a party. No attachments, no responsibilities, and absolutely no falling in love. He spent his days at Inked and his nights wherever he pleased. But when Stone rescues a beautiful woman in need, his entire world gets turned upside down, and he'll never be the same.

TROPES & THEMES:

Woman in Peril
Protective Alpha Hero
Found Family
Playboy
Opposites Attract
Troubled Past
A BINGEABLE FAMILY ROMANCE DRAMA ❤️
BOOK 13

Asher had never thought of Olive as anything more than a friend. She was aloof, preferring to read books. instead of spending time with her friends. And when she moved away almost a decade ago, their friendship quickly disintegrated. But when Olive returns to visit a local university, she never expected to run into a very grown up and even more handsome Asher. And what starts off as a rekindling of an old friendship turns into a fiery relationship.

TROPES & THEMES:

Opposites Attract
Friends to Loves
Return to Hometown
Playboy